In a lot of time, we create a Facebook account but we don't provide our original date of birth. The reason for this is sometimes we forget that we lost id cards or many other reasons. After that when we get back or know our Original date of birth some time we can't submit it to Facebook because Facebook keeps a lot of limitations on their policy. It's a really good security policy because nobody can't born two times to provide a second time date of birth. I'm showing here this process to change Facebook birthday after limit.
Facebook knows sometimes it could be a mistake to submit a real date of birth. For this reason, Facebook keeps a hidden process to submit a date of birth again to provide real information. Because Facebook always wants real information from us to keep the secure privacy of the user.
Importance of Submit Real Information on Facebook
Must need to provide real information on Facebook. If you provide the wrong information of you on Facebook then when Facebook could ask you to verify your account in the future then you could not verify your account with your information. If you do anything that's not permitted to the Facebook community then Facebook will block your account. If you want to get back your account then you have to provide your identification to get back your Facebook account. What you will do when you already provide your wrong information then you never get back your account because it's impossible to verify your account with false documentation.
Always must provide your photo ID address verification something like a national ID card, driving license, passport, and some others. What you will do then if your date of birth is incorrect in your Facebook account. If you provide you are the real date of birth in the Facebook account then you can submit your original identification documents that are matched to your Facebook date of birth. So it's very important to keep your original and real information on Facebook. Facebook has a lot of privacy and limitation features to use. Actually, it's really helpful for us to keep our information private and secure. Facebook keeps this large job security system for safety in your account. Your Facebook account is a place of all of the information in one. In this time of technology, you have provided all the information correctly otherwise you will be banned.
Right Way To Provide Birthday to Facebook After Limit
Facebook keeping a great opportunity to change Facebook's birthday after the limit. Sometimes Facebook says you have used up all of the changes incorrect birthday. They told you to contact Facebook support but they could not help you with this. So what can I do now I will show you a method where you can easily solve your Facebook birth dates limitation problem. There is no matter who is problem Facebook showing in your date of birth changes system. in all of the limitations of the Facebook date of birth change solution is one. Go to the Facebook date of birth changes page by following the Facebook birthday change button below & follow all of the instructions that I'm showing here.
If you doing this from a PC that's great if you're doing this from your mobile that's also no problem use desktop mode on your browser before visiting. It's very easy with your PC version on your mobile. There is no difference between mobile or PC.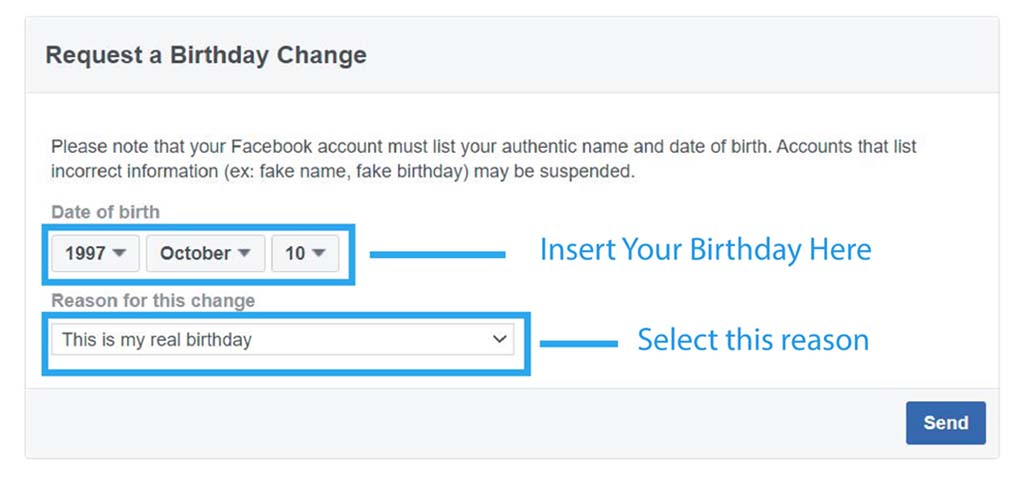 After going to the link, first, select the date of birth here that you want in your Facebook account. Select a reason to change your Facebook birthday. Must select this reason 'this is my real birthday and click to send. After sending cheek your birthday in just 30 minutes. It could be completed in 2 minutes also. It will take highly 30 minutes to solve.
Video Tutorial To Change Facebook Birthday After Limit.
This video is in an older method but changing system all is the same.
Some Tips to Keep Facebook Account Safe
If you want to keep your Facebook account safe always then must you have maintained the rules of Facebook? Otherwise, your Facebook account could be disabled and you can never get back this account. Safety is highly required to maintain a Facebook account. Highly require is this we use your real information to open a Facebook account. Use mail and phone number both at the time of opening your account. If you already opened your account without your email just only in the phone number you need to add your email account now. Just go to setting and add your email id on your Facebook and confirm that mail with verification code.
Use can use OTP to log in to your account. It will make your account safer. Always use your original name to create a Facebook account because if you need to verify your account you have to submit your government-issued ID that's in your original name. If both names don't match your request will be declined to verify your account. So it's very important to you all of your information is always real.
I think your problem is already been solved. If you have any more questions about changing Facebook birthday you can comment here or directly contact us. Our friendly support team is always ready to help you with your problems.