On-Page SEO is the first step of total marketing tragedy. For this reason, I'm going to explain to you About SEO Optimization.
If you have a website so you must to know about SEO because without SEO your website is totally valueless. When we start a website our main target is a visitor. Where you get a visitor for your website? Something like 90% visitor enters any website with Google Search Engine. So if we present our website on google search engine properly then visitors automatically enter our website by searching on google.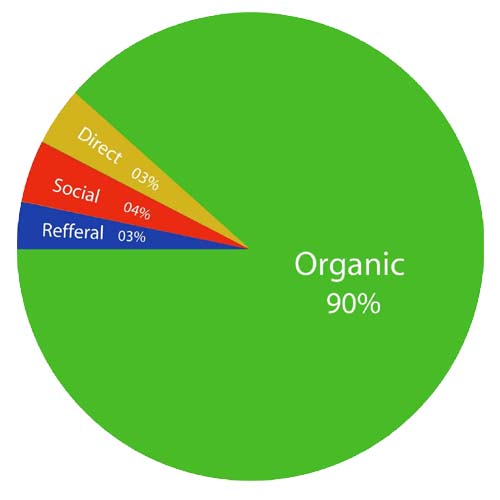 I already told you about 90% of visitor visit website by an organic search that is a search engine. In all of No. 01 is Google. have also more search engines like Bing, Yahoo, Ask, etc. 90% of people of the total world always search in google and only 10% use another search engine. So, now you confirm that if you can rank your site on the search engine, you could get lots of visitors on your site in a day.
To rank your website on the search engine you have to do total marketing tragedy that's called search engine optimization or SEO Optimization. Search engine optimization work in two-step. On of is on-page optimization and another one off-page optimization.
On-page optimization is very important in total search engine optimization. On-page optimization could be ok without a page optimization but office optimization never works without on-page optimization. So, on-page optimization is very very important for a website.
What Have To Do Complete On-Page Optimization
If you didn't buy Domain hosting yet must helpful following instruction to set up the best server.
First recommendation if your domain is keyword friendly and easy to remember.
Try to use example.com, example.net, example.org or example.info (.com & .net is higher recommendation.
A speedy hosting is highly recommended because google doesn't provide ranking in the slow website. So take the best a hosting package with your budget from the higher rank company. Recommended (Site Ground, In Motion Hosting, Host Gator, & Name Cheap Is Best For Budged,
If you complete all as our instruction you complete the main step of SEO.
What you have to do first on WordPress website?
At first, install Yoast SEO to your plugins section.
Connect your side in Google Analytics & Google Search Console.
Connect Make your Site Map By Yoast SEO and connect it to search console.
Make sure yoast authorized with the search console.
Post manner is the main thing of On-Page Optimization.
When you are going to write a post you must ensure the following steps to write your post with good SEO Optimization.
Ensure the following instruction to write your content
On-time, when you will write content you must know fully about that.
Write a genuine title about your content.
Attached an Original Featured Image For your content you must have to be copyright owner of that Image.
When you Start post then start with a subtitle about content with h2.
Then write a short description of your content.
Then Step by step write description h2, h3 & h4 Heading.
Write Your Content By the Following Step
What have in your content?
Why we follow your content?
What we gain from your content?
How can your content subject help the reader?
And at last how can people get content service
Keep in Mind Following Rules to write content:
Your content needs to 100% transition friendly
Keep simple sentence length
Do not write a paragraph longer than 150 word
Write all section of content with Subheading
Write Maximum 300 word against a subheading
Never start 3+ sentence with the same word
Follow SEO Indicator
If you complete those steps Your Readability will be good. Then You Have to do Main SEO.If your readability is good that's great now time to do SEO also is good as like photo you see right here. To make that good also you must have to maintain some rules and regulations in writing your content.
SEO section is very very important to your content. So you must have to do your SEO also is good. There is a button SEO analysis and readability analysis. Click on SEO analysis and read how can you to make your content with good SEO. There will be many steps. If you solve escape then that will be green. I have to make clean all of the steps.
Make Sure You Follow This Instruction To Write Content
Follow Thins before start writing your content. Click on Edit Snippet
Write your Targeted keyword on focus keyphrase
Make your SEO title with the best keyword and good length
write your focus keyword on slug section
Write a meta description about your content
The following Step to content writing.
Write a heading about your content and keep your targeted focus keyphrase on there
When you start your first paragraph you also have to use focus keyphrase in your paragraph naturally
Also need to keep focus keyphrase in hole content enough times
Keep an outbound link is great for SEO
Write an internal link also is better than matched about your content
Write your content with wide described if you use thousand+ word that is great
Use photos or video to explain your content to the visitor. (Large Content Is Always Great)
If you have done all of the instructions about this tutorial then you are totally knowledgeable about what is on-page SEO. After complete on-page is your truth then you have to do off-page SEO. Before the start off-page SEO make sure you have much content on your site. Write much quantity of content on your website then start your off-page SEO. You Can See SEO setting for blogger beginners to advance to get more knowledge about optimization.
If you have any type of question about on-page SEO, contact our friendly support. Our support team is always available to help you with any type of problem.
Read here full tragedy of Search engine optimizations SEO